The National Honor Society (NHS) is a selective organization based on the characteristics of Scholarship, Character, Leadership and Service. Students who meet the criteria established by the national organization and the Goshen chapter are inducted in either their junior or senior year.
After induction, NHS members attend meetings, participate in chapter projects and activities, and perform a minimum of 25 hours of community service during each year of membership.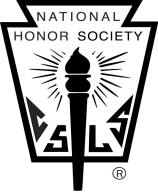 Scholarship
The required cumulative academic average is 90.0 %
Character
Students are expected to demonstrate good character as evidenced by their overall interactions, including respect, responsibility, trustworthiness, fairness, caring and citizenship.
Leadership
To be a leader does not necessarily mean that a student must hold an office in an organization. Leadership may be demonstrated by consistently being a good role model, by initiating and following through on projects and by leading by example. A good leader is thorough and dependable.
Service
Service is described as a willingness to work for the benefit of those in need or to serve the school or community in a variety of ways, without compensation of any kind. In considering service, the selection committee will evaluate contributions the candidate has made to the school, classmates and community, as well as the candidate's attitude towards service.
More Information
National Honor Society Advisors