Mission Statement | Organizational Values | Goals | Portrait of a Learner | What is Strategic Planning? | News/Updates | Strategic Planning Committee Task Force Team | Questions about Strategic Planning?
Mission Statement
The Goshen Central School District is committed to providing an environment which encourages lifelong learning for students.
Our expansive offerings of engaging curriculum, extra-curricular and co-curricular programs offer multiple authentic educational journeys.
Our faculty and staff provide a welcoming and supportive environment which is relevant, ever adapting, and reflective of the values of our learners as they prepare to move forward to the next phase of their lives.
Organizational Values
A meaningful education for each child.
Appreciation of diversity, individuality, and inclusivity of all voices and experiences.
Compassion and empathy.
Connections and relationships that we build.
Creativity.
Pride in our collective efforts.
Sense of community.
Perseverance.
Integrity.
Initiative.
Respect for all.
Responsibility/accountability.
Open-mindedness.
Safety in all respects.
Courage.
Goals
Strengthen and facilitate a safe, respectful, and engaging school community in which all students have voice, choice, and support in their personal, academic, and career development.
Design and implement a comprehensive and aligned K-12 path to help each student succeed academically and achieve a strong sense of personal wellness.
Portrait of a Learner
Curious and inquisitive.
Respectful of others.
Productive and proud of their work.
Willing to take risks for the betterment of themselves and others.
Introspective while attentive to their surroundings.
Focused on holistic well-being.
Wiling to set goals and work towards them.
Has the desire to achieve their highest level while following their own unique pathway.
Pursues continuous self-development.
Values self and has empathy, seeing the value in others.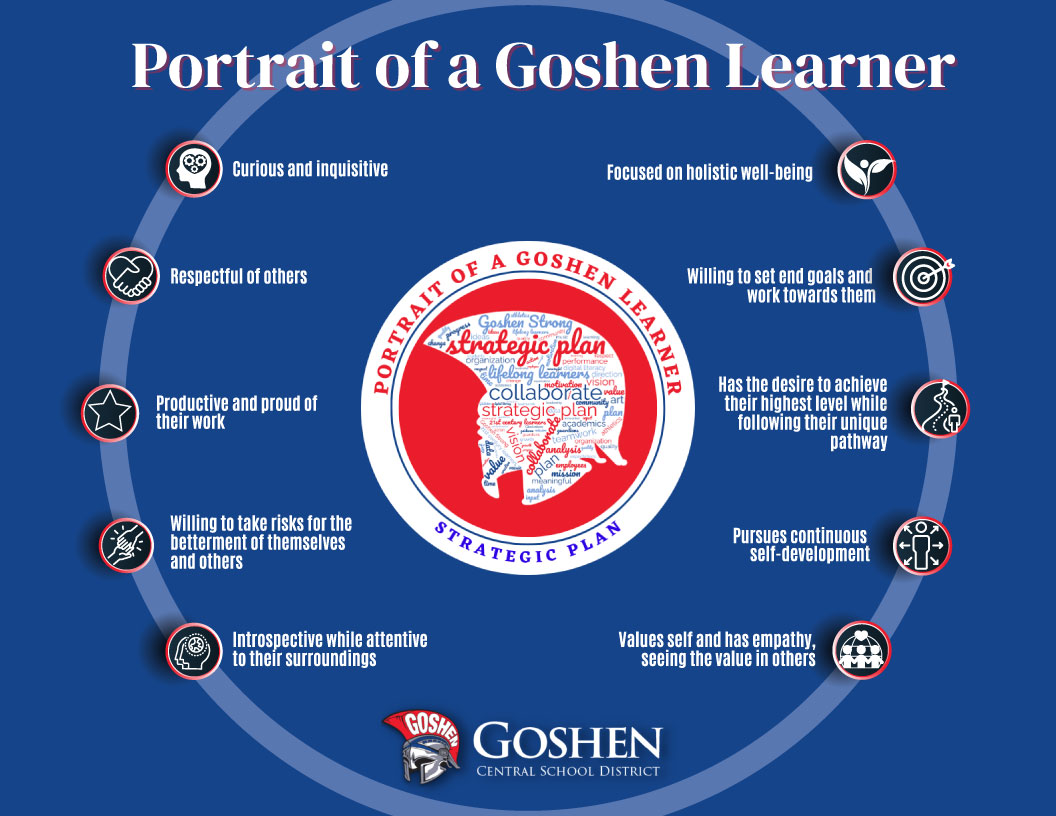 What is Strategic Planning?
In short, a strategic plan will help establish the direction of our schools by assessing where we are today – and envisioning where we want to be. The strategic planning process is a fluid, multi-year process that will allow the district to develop a mission, examine its core values, and develop goals and action plans.
The Goshen Central School District has began meaningful work in its strategic planning process. The strategic plan will serve as a blueprint to guide the future of the district.
The strategic plan will include the vision of the district's core group of stakeholders — students, parents, faculty, staff, administrators and community members — and individual task forces will be assigned to specific topics that are data-driven and focus on specific areas.
News and Updates
Strategic Planning Update: September 2022
The members of the Strategic Planning Task Force team worked together to create goals, organization values, update the district's mission statement, and brainstormed its Portrait of a Goshen Learner, describing the qualities and characteristics of Goshen Central School District students, as viewed above.
Input sought, valued during strategic planning process
The strategic planning task force team, made up of 28 members, is highly involved throughout the entire process and provide expertise in specific areas of continuous improvement.
The Goshen Central School District asked its stakeholders to participate in an anonymous survey as part of its strategic planning process. Surveys were available for parents and guardians, community members, faculty, staff and students and administrators.
Strategic Planning Update: March 2022
On March 16 and 17, the members of the Goshen Central School District Strategic Planning Task Force Team met to develop the goals and objectives of the strategic plan.
Under the guidance of renowned facilitator and educator Judith Wilson, the team members reviewed and discussed the results of the anonymous survey taken by hundreds of district stakeholders. More details will be shared with the community as they become available.
About Judith Wilson
The district is working with Judith Wilson, LLC to execute its strategic planning process. Judy Wilson's work is dedicated to the art and science of leadership in public education. As an educator in New Jersey for 37 years, she served as superintendent of the Woodbury and the Princeton school districts.
In recent years, she has dedicated her work to professional learning for administrators and school board members, led superintendent searches, and facilitated the development of many districts' strategic plans in New Jersey, Pennsylvania and New York. Above all, her hope is to instill in those responsible for children's education the desire to continue to learn, apply and reflect in order to make their professional practice as strong as possible.
Strategic Planning Committee Task Force Team
Administrators
Heather Carman – Principal CJH / GAA Union Leader
Heather Hendershot – Director of Pupil Personnel Services
Nancy Mesic – Assistant Principal SAS/CJH
Teachers Unit
Deana Lenz – Guidance Counselor GHS
Dillion Johnson – Visual Arts/STEAM Teacher GHS
Gayonne Hartley – Special Education Teacher GHS
Jeri Krish – World Language Teacher GHS
Julia Chairot – Science Teacher GHS
Katie Shaffer – Social Worker GHS
Anthony Monti – School Psychologist CJH
John Mardyniak – Physical Education Teacher CJH
Kathleen Higgins – Grade 6 Teacher CJH
Michelle Killenberger – Health Teacher CJH
Beth Tyrell – Grade 3 Teacher GIS
Jennifer Berger – Teaching Assistant GIS
Nicole Penner – Grade 5 Teacher GIS
Ceili Boles – Teacher SAS
Lisa Rohrssen – Teacher SAS
Tara Eber – Teacher SAS
Lisa Dombrowski – Family & Consumer Science Teacher CJH/GHS
CSEA Staff
Christina Oliveras – Clerical Assistant to the Director of Health, Physical Education & Athletics
Parents
Alicia Parker / Joseph Parker- Parent
Autumn Barbosa – Parent
Maria Dershem – Parent
Students
Jolina Dong – Student GHS
Quentin Riley – Student GHS
Kiara Paulino – Student GHS/BOE Student Representative
About Us Links
Questions about Strategic Planning?
If you have questions about the strategic planning process, please contact Dr. Kurtis Kotes, our Superintendent of Schools.